For the guitarist that is looking for a heavy duty, eye-catching guitar stand to protect their beloved axe, look no further than BadAzz Guitar Stands. We caught up with them at Summer NAMM 2014 in Nashville, TN where they talked with us about their Rhapsody Stand.
BadAzz Guitar Stands showcased their Rhapsody Stand which is made of a high quality aluminum available in a powder finish in a wide variety of colors, and features a contemporary design and style. From the side angle, it appears to resemble a stiletto! With prices starting from $299, the stands can be designed to hold one guitar to multiple guitars.
Not only does BadAzz carry their standard Rhapsody Guitar Stand, they also custom make one-offs for the discriminating buyer. They have made guitar stands from rare antiques and one-of-a kind pieces. According to the owners, it is their mission to "create a beautiful, functional piece of art in which you can be proud to display your favorite guitar for the admiration of you and your friends."
Check out our video of BadAzz from Summer NAMM 2014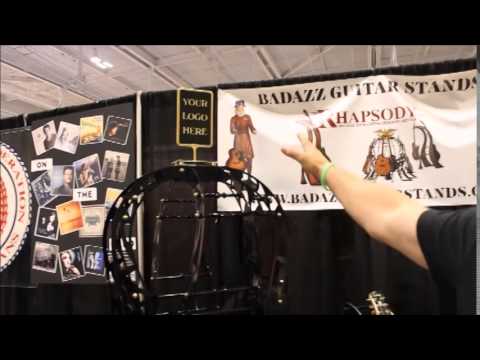 For more on BadAzz, visit their site HERE.