Ultimate Ears (UE) had its debut at Summer NAMM 2014 with their complete line of ear monitors–their ever popular universal UE900s along with the custom-fit in-ear monitors (IEM). Their quality product caught the attention of many including Billy Cuthrell, owner of Progressive Music Center in Raleigh, North Carolina and a panelist at the Best in Show event, which is held on the last day of NAMM. The panelists searched the showroom floor for several days looking for new and innovative products. Billy chose the UE900s as his choice for "Best in Show" and said, "They've got these great UE 900s. They come in really nice packaging and it's basically set-up for the retail store, there's no audiologist involved. You open up the box, and inside they give you every sizing option you could want. Ultimate Ears has figured out a gateway headphone that would lead your customer into doing custom in-ear monitors."
The UE900s are universal earphones designed to isolate noise, have a low profile, and come in a wide variety of standard sizes from XXXS to L to accommodate most ears. However, if you are like me and have difficulty finding the right size earphone because I have small ear canals, UE offers custom-fit in-ear monitors for a perfect fit and are completely soundproof, fit flush within the ear—so no protruding, "in-the-way" ear piece.
During my visit to their booth at NAMM, Mike Dias, Sales Director for UE, explained that men and women's ear anatomy is different and that men generally have larger ear canals than women. He walked us through the process of how their custom pieces are molded and manufactured–and just how ideal they are for female musicians. I tried on for size the XXXS earphone from their UE900s line, but as usual, they did not fit correctly in my ears. I am constantly having trouble with earphones…I can never get them stay put!
Mike suggested the custom route where I met with an audiologist who checked my ears for any abnormalities or obstructions and then proceeded with the quick, simple process of creating a mold of my ear canals. From this mold, which is shipped to their factory in Irvine, CA, the ear monitors will be manufactured to your exact liking, including the type and color of materials. At this point, it will take approximately 7 days for the custom IEMs to be produced.
The custom IEMs are available in 10 different models to accommodate many different needs from basic earplugs to high quality, fine-tuned reference monitors for vocalists, on up to the top-of-the-line products used by professionals across the globe.
Some of our favorite artists that use the UE line of products are Bonnie Raitt,, Alanis Morissette, Heart, Jewel, Joan Jett, Kate Nash, Miranda Lambert, and the list goes on and on! For a complete list of their artists, click HERE.
This product is great for female artists that struggle with standard ear monitors and for music lovers that want to listen to their music without the outside noise. So check out their site HERE and use what the "Pros" use!
A Brief Video on the Process of the Making of Custom In-Ear Monitors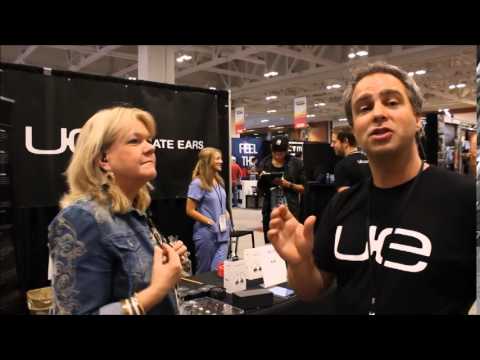 I
In conclusion, Mike added, "When you are playing the drums, when you are playing the guitar, you must protect your hearing and you must protect your voice…and the only way to do this is with a custom in-ear monitors."