The final day.
Usually the last day of NAMM consists of relaxation and getting there late and leaving early, but I chose to really use this day as my last chance for meeting up with people, getting my hands on more gear, and wrapping up an already amazing weekend! One of my favorite looking booths was the Moog Music booth. Everyone was so wrapped up working with their headphones on, like a quiet oasis of creativity!
I hit the Fender booth and the stage was fantastic! The backdrop was a huge Fender amp that made the artists performing look so tiny! Patrick Sweany was there playing when I arrived and his singing and playing blew me away. He was promoting their new acoustic dreadnought as well as their new amp especially made for acoustic guitars.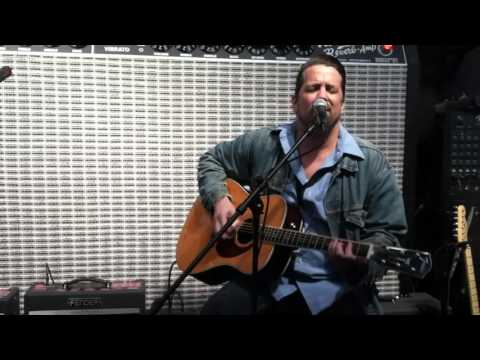 Who knew that I could kill two birds at NAMM? In Hall E, downstairs, I discovered, thanks to some friends who headed me into that direction, a booth with Pro Musical Instrument insurance. As a member of Local 47 and then Local 107 continuously since 1978, I have found the benefits of being a union member quickly depleting. In the state of Utah, a right to work state, there is no reason or perk to remain a member, except for the great insurance I have access to through the union. If one is not a member, you cannot get this kind of a deal on insurance, until now. There were two of us at the booth asking specific questions about the coverage, the costs, what can and cannot be covered, is it covered if you are parked after a gig and everything gets stolen out of your car, etc., and the answers were more than what I had expected.
(Back story – in 1980, my '58 Les Paul Junior was stolen from a guitar shop and never recovered. Because it was not in my possession, I never received a copy of the police report or any kind of information for future sightings of my axe, so when someone said they saw it being repaired somewhere, there was nothing I could do. Literally the week after this irreplaceable piece of gear was stolen, I got musical equipment insurance, through the union, and have had it since. And fortunately have never, knock on wood quickly, needed to use it.)
Anderson Group has great coverage and they will answer all of your questions. Anyone traveling to and from gigs must understand that your homeowners or renters insurance will NOT cover any equipment that is used in your profession. Here is a way to cover yourself for anything that may go wrong. And no, I do not work for them, nor do I get any deal from them. I personally am covered through September 2016, and will be switching to this company then.
While downstairs, I saw the coolest booth that was so colorful and exciting! Anything that catches the eye is key at NAMM since there is SO MUCH THERE! Your company needs to have something to draw in the passer by, and this is what Funguy Mojo Box Guitars did to me! These guys, based in Long Beach, CA, make the most fun and actually pretty good sounding guitars from all kinds of boxes! < 03Part4.jpg > They will even custom make something for you! I loved this 4 string guitar. < 04Part4.jpg > And they even have little practice amps for you! < 05Part4.jpg > < http://funguymojoguitars.com > Which one to choose though?
It was so much fun to see such young girls get interested in playing music. Here is a very young one at DDrums! <
NAMM U's Success Strategies for Women in the Music Industry in the lobby of the convention center was a MUST go to event for me. Moderator Laura B. Whitmore (right) spoke about the horror stories and successes with (from left) Daisy Rock Guitars owner/designer Tish Ciravolo, Capitol Studios exec Paula Salvatore, Roland's Rebecca Eaddy, and guitarist Jennifer Batten, and entertained the audience with the what to do's and what not to do's based on their experiences.
This was a women's empowerment hour in all of NAMM, with tips on how to be strong in your convictions, be prepared, use your tools of the trade, and climb that ladder! Every one of these women had to start at the bottom and worked very hard to get where they are today. Use them as role models!
Finally at the Roland booth, Heidi Joubert was demonstrating their new Cajon Box and who shows up but Stevie Wonder! She invited him to try it, which he did, and wow, the crowd went crazy! You never know who will show up at the NAMM show.
To wrap up my weekend in Anaheim, it was filled with friends old and new, and the gear was really great. The opportunity to actually play some of the new instruments or find new pedals, gadgets, etc., really makes this worthwhile. Now I'm counting down to next year's show!