SEOUL, SOUTH KOREA — The new Sunset TC electric guitar by Cort combines retro style with classic sound in a unique hybrid design. Ideal for rock, blues, country, pop and funk, the Sunset TC is a simple yet versatile instrument with an authentic vintage vibe that will appeal to roots-oriented players.
A hybrid of T-style and LP style, the Sunset TC incorporates the features of two types of iconic solid-body electric guitars. The ash body is lightweight but has a surprisingly strong, tight and punchy sound with emphasis on the high-midrange. Its natural beauty and distinctive grain patterns are ideal for the distressed finish, available in Worn Butter Blonde or Worn White Blonde. The pairing of the ash tonal wood and bolt-on hard maple neck produce a fundamental tone with plenty of attack that will cut through and be heard clearly in the mix. The jatoba fingerboard with 9.45'' radius on a 25.5″ scale is a classic feature that's ideal for both single-note playing and chording.
The Duncan Designed® P90-1 bridge pickup and TE103B neck pickup create the Sunset TC's authentic T-style twang and P90-style bark, a combination that produces a wealth of classic sounds for roots-oriented musical genres and styles. Even with raging overdrive sounds, the TE103B's stacked-coil design allows for hum-free operation.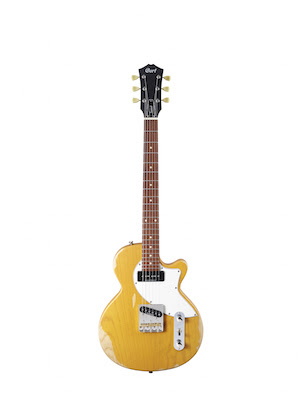 The pickups may be sophisticated, but the Sunset TC doesn't overcomplicate the controls. One volume pot and one tone pot with 3-pickup selector keep it clean and simple and allow the player to focus on the music. Vintage-style tuning machine heads and knobs improve tuning stability and functional performance, and nickel hardware complete the look.
Learn more about Cort's Sunset TC atwww.cortguitars.com
Retail $599.99 USD