Media Day at NAMM is held for several hours the day before NAMM officially opens and is just a small sampling of the thousands of instruments inside the halls of the Anaheim Convention Center.
We started our day with an interview with Matthew Reich at The John Lennon Educational Tour Bus who explained the history behind the bus. The tour bus travels to schools throughout the United States and gives children the opportunity to have a glimpse into the music industry through their onboard state-of-the-art equipment and instruments, advanced recording technology, and their talented teachers. This year they are celebrating their 20 year anniversary! The non-profit has been made possible by Yoko Ono Lennon to carry on John Lennon's legacy of peace, love and creativity. Instruments and technology are made possible by their many partnerships with companies like Line 6, Canon U.S.A. Inc., Apple Inc., Audio-Technica, Neutrik and their founding sponsor Yamaha Corp. This year at NAMM, students from a local school will have the opportunity to work with Ronnie Spector who will be performing at the Imagine Party on Saturday night.
Companies showcasing their newest products for media included IK Multimedia, Martin Guitars, Kala Ukuleles, Fender Guitars, Orange Amps, Yamaha, Hohner, Taylor Guitars and several more.
We were immediately drawn to Taylor Guitars. On display was the Academy and the GS Mini Bass. Both played beautifully! The Academy series was designed to bring the Taylor experience to a broader market with an affordable price starting at $599. The top was solid sitka spruce with layered sapele on the back and sides. The armrest portion was mahogany with a sapele neck and a genuine ebony fretboard. The mini bass was quite impressive – it has the neck of a guitar. Taylor worked exclusively with D'Addario on the strings. This is a must see bass and retails for $699.
IK Multimedia was demonstrating their Fender Collection 2 for AmpliTube hitting the market this month for $99. This technology gives players and producers seeking the sound of the beloved Fender sound from the amps of the '50s and '60s. Included in the Fender Collection 2 for AmpliTube are four amps from the '57 Custom series; the '57 Custom Champ®, '57 Custom Deluxe™, '57 Custom Twin-Amp™, and the '57 Custom Pro™, a '57 Bandmaster™, plus models of an original '53 Fender Bassman® and the iconic '65 Fender Super Reverb®. For PC and MAC.
Newcomer to NAMM, Zerberus Guitars from Germany had on display two of their gorgeous guitars made from genuine gemstones. Owner Frank Scheucher was onsite to proudly display his Tiger's Eye and Amethyst Chronos models. Simply stunning!
Another newcomer to NAMM Somnium Guitars has quite a unique concept of a changeable guitar. Change out the pickups, neck and even the body! You have to see it to understand!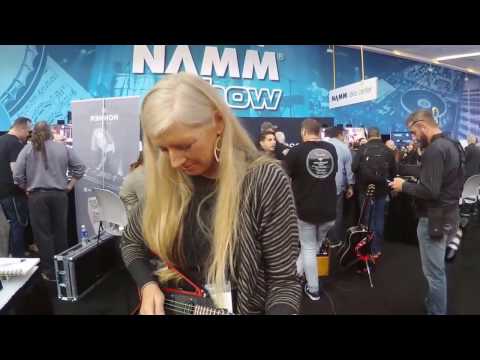 The crew from Kala Brand Music Co. took the time to show us several of their models. The Salt & Pepper Doghair is simply beautiful. It is made of solid Honduran mahogany and undergoes a special finishing process where it receives a color spray to fill the grains, then sealed and glossed. At their booth, we met Avonlea who took the time to show us her own custom-made Kala ukulelenamed "Nova."
We've all heard horror stories of loss or theft of musical instruments. Gearsecure is bringing to the market a tracking device that can be embedded in an instrument. Think LoJak for your gear! And the price is very affordable at $19.95 per year.
Fender was showcasing their new acoustic amps and new Fortis powered speakers and subwoofer. Built on the tremendous success of the globally award winning Acoustic SFX and Acoustic Pro amplifiers that debuted in late 2015, this new acoustic amplifier lineup boasts all new upgraded features. A new addition to the Fortis powered speaker models is also currently available along with an 18" subwoofer, which is the first of its kind to join the Fortis powered speaker collection.
The new Fender acoustic amplifiers and pro audio speakers include the following models:
Acoustic 100
Acoustic 200
Acoustasonic 40
Fortis F-10BT 10" Powered Speaker
Fortis F-18SUB 18" Powered Subwoofer
Martin unveiled is 2 millionth guitar – that's right, t-w-o millionth – at Media Day. Martin collaborated with the RGM Watch Company on this special one-of-a-kind guitar which includes a RGM timepiece built into the headstock. It is a stunning piece of work.
For Ozzy fans, Hohner introduced its new Ozzy Osbourne harmonica, complete with a coffin-shaped case.
The day ended with a VIP party to celebrate the 30 year anniversary of the Fender Custom Shop which was held in the Fender room. Attendees were able to hear from the Master Builders themselves and see firsthand before the official opening of NAMM these beautiful pieces of art!