Multi-award winner, singer and guitarist Taylor Swift won four awards at the 2013 American Music Awards on Sunday, November 24, 2013 in Los Angeles, California, taking home awards for Artist of the Year, Favorite Pop/Rock Female Artist, Favorite Country Female Artist and Favorite Country Album award.
In a backstage interview with Bilboard, Swift talked about what a crazy year it's been for her with all the awards she's won, and how she doesn't want it to end, and her works for a new album.
See the interview below:
Taylor Swift Q&A with Keith Caulfied of Billboard after winning 4 awards at 2013 AMAs.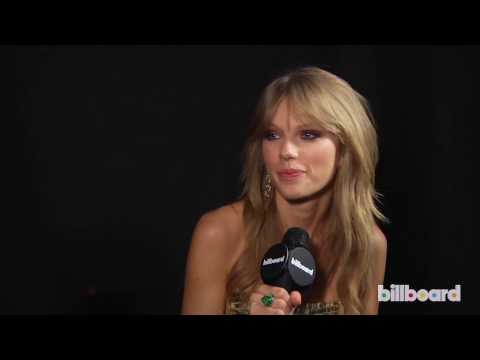 Full list of winners:
ARTIST OF THE YEAR
Taylor Swift
ICON AWARD
Rihanna
NEW ARTIST OF THE YEAR PRESENTED BY KOHL'S
Ariana Grande
SINGLE OF THE YEAR
Florida Georgia Line Featuring Nelly, "Cruise"
FAVORITE MALE ARTIST – POP/ROCK
Justin Timberlake
FAVORITE FEMALE ARTIST – POP/ROCK
Taylor Swift
FAVORITE BAND, DUO OR GROUP – POP/ROCK
One Direction
FAVORITE ALBUM – POP/ROCK
One Direction, "Take Me Home"
FAVORITE MALE ARTIST – COUNTRY
Luke Bryan
FAVORITE FEMALE ARTIST – COUNTRY
Taylor Swift
FAVORITE BAND, DUO or GROUP – COUNTRY
Lady Antebellum
FAVORITE ALBUM – COUNTRY
Taylor Swift, "Red"
FAVORITE ARTIST – RAP/HIP-HOP
Macklemore & Ryan Lewis
FAVORITE ALBUM – RAP/HIP-HOP
Macklemore & Ryan Lewis, "The Heist"
FAVORITE MALE ARTIST – SOUL/R&B
Justin Timberlake
FAVORITE FEMALE ARTIST – SOUL/R&B
Rihanna
FAVORITE ALBUM – SOUL/R&B
Justin Timberlake, "The 20/20 Experience"
FAVORITE ARTIST – ALTERNATIVE ROCK
Imagine Dragons
FAVORITE ARTIST – LATIN
Marc Anthony
FAVORITE ARTIST – ELECTRONIC DANCE MUSIC (EDM)
Avicii
FAVORITE ARTIST – ADULT CONTEMPORARY
Maroon 5
FAVORITE ARTIST – CONTEMPORARY INSPIRATIONAL
Matthew West
TOP SOUNDTRACK
"Pitch Perfect"
Read more at http://www.billboard.com/articles/news/5755250/american-music-awards-2013-full-winners-list#9I4GlGqFDIw42bJV.99