When it comes to sophistication and evoking a homemade warmth, Camille Nelson has things mastered. The multi-faceted finger-style acoustic artist is gearing up to release the official video for the wholesome instrumental memorial track titled "Berceuse de Paris," otherwise known as "Paris Lullaby," in honor of the one year anniversary of the heart-wrenching attacks on Paris, France on November 13, 2015. Nelson aims to show relentless support for those affected by the incident by doing what she does best– sending positive vibes with her bellowing wooden machine. While Camille Nelson demonstrates a certain rhythmic and harmonic complexity with a singular instrument, her aesthetic is one that can be enjoyed and understood by anyone lending their eyes and ears. "Paris Lullaby" acts as a sonic comfort to the pain the world endures and evokes a sense of tranquility and beauty that comes from loss as the world enters a new political era and reflects on past tragedies.
Watch "Berceuse de Paris/Paris Lullaby"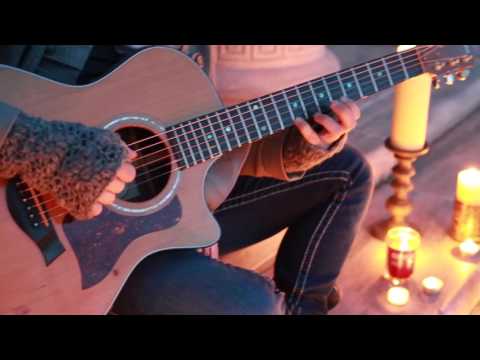 Camille Nelson is a "Jane of all trades" wearing a relentlessly beautiful ear for acoustic-driven folk music with a pop rock tinge. Classically trained in guitar and violin, Nelson creates fresh and kinetic melodies combined with unique bodily guitar percussion, allowing her to convey elaborate and heartfelt stories using the entirety of her instrument. Her songwriting style, influenced by artists including U2 and Alanis Morissette, introduces elements of classical string arrangements with atmospheric guitars and vocals for a modern edge.
Born and raised in Salt Lake City, Camille is the youngest of six children who have also demonstrated musical talent. Her father was a violist, and her mother was a professional opera singer, both having a heavy influence on Nelson's future in performance.
In 2009 Nelson collaborated with producer Giles Reaves to release her debut album, First Words, via the independent label known as Dimmi Records. She is currently working on a follow up EP to be released in 2016, which will feature her new finger-style guitar work as well as other classical influences on violin and piano.
Along from family, Nelson credits much of her musical talent and inspiration to her worldly experiences. She has been to over 60 countries and is fluent in German and Italian. Her multicultural respect and perspective that are present in her songwriting come from years living in South Africa, Germany, Switzerland, and Italy prior to and while pursuing her Master's degree at the University of Utah followed by her Ph.D at Gonzaga University in Spokane, Washington. She currently teaches graduate courses in management, communication, and leadership while pursuing a future in music in effort to motivate and impact people through the power of song.
For fans of Kaki King, Andy McKee, Antoine Dufour and more.
http://camillenelson.com
https://www.facebook.com/camillenelsonmusic
https://www.youtube.com/user/camillenelson
https://www.youtube.com/user/DimmiRecords
https://soundcloud.com/camille-nelson-music
http://instagram.com/camillenelsonmusic
Source: Press Release